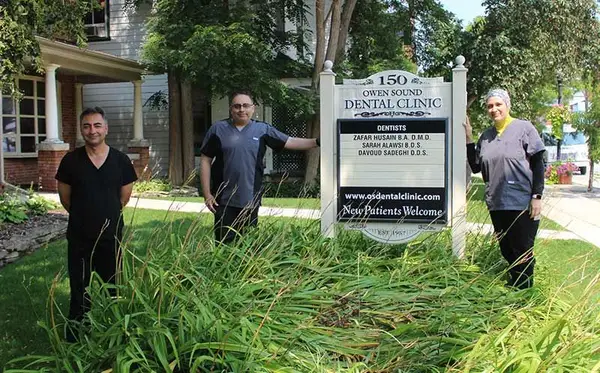 Owen Sound Dental Clinic was established in 1957. Since then, our philosophy has always been "preventative family dentistry" based on establishing each patient's individual needs in a welcoming, yet professional atmosphere. The evolution of our clinic in Owen Sound has never deviated from that philosophy; the positive experience of our patients is our number one priority.
Our team is dedicated to making your visit as easy and as comfortable as possible, along with providing personalized care that you deserve. As a family-oriented dental clinic, we enjoy working with people of all ages with a wide variety of dental needs.
We offer a comprehensive list of general, restorative, and cosmetic dental services, including new technologies that help make dental visits a more pleasant experience for you and your family. We work with you to help you achieve a smile that can maximize your health and appearance, and raise your self-esteem. Call us today to learn more about our dental services.
Dentist

Dr. Zafar Husain completed his honors degree in Psychology followed by his dental degree at the University of Saskatchewan. Following graduation from dental school, Dr. Husain completed a 1-year hospital-based dental residency at the Royal University Hospital in Saskatoon, Saskatchewan. His additional training focused on treating special needs patients, managing dental trauma, managing medically complex dental patients, and the dental treatment of patients undergoing cancer treatment.

Dr. Husain joined the Owen Sound Dental Clinic in 2008 and has been practicing full time ever since!

Out of the office, Dr. Husain enjoys spending time with his wife and 2 daughters.

Dentist

Dr. Davoud Sadeghi received his Doctor of Dental Surgery degree from Tabriz Medical Sciences University in 2000, since then Dr. Sadeghi has pursued his passion in various fields of dentistry from basic pediatric and preventive dentistry to implants and cosmetic dentistry for more than 18 years.

Dr. Sadeghi re-qualified to practice dentistry in Canada in 2017 through National Dental Examination Board and is a member of the Royal College of Dental Surgeons of Ontario.

Dr. Sadeghi is committed to offering exceptional and personalized care to his patients, he takes pride in building a strong professional relationship with his patients by informing them about their oral health needs and addressing their concerns and questions from the first consultation to the final steps of dental treatment.

Dr. Sadeghi believes in continuous education and has been an active member of several continuing education and professional associations.

Dr.

Dentist

Dr. Alawsi graduated in 2005, obtaining her B.D.S degree from the faculty of dentistry at the University of Tripoli, Libya. there had her advanced training in all the specialties of dentistry. She then passed the NDEBexams and got her DDS degree in Canada in 2017. She is a member of the royal College of Dental Surgeons of Ontario and the Ontario DentalAssociation. Dr. Alawsi tries her best to reduce patient fear and anxiety. Committed to providing the best care possible for her patients, by attending continuing education courses regularly. She loves spending time with her daughter. Her hobbies are outdoors activities, painting, swimming.Dr. Alawsi looks forward to meeting you and providing your family the best of dental care in a friendly environment.

Dr Natalie Chaewon Jung attended St. Mary's High School in Owen Sound, and then completed her Honors Specialization in Biology at Western University in London. She received her Doctor of Dental Surgery at University of Detroit Mercy. Following graduation from dental school she went to practice in Houston, Texas before returning home to Ontario.

Dr. Jung places utmost importance on the perfect patient experience. She provides gentle and efficient care to help patients achieve a healthy and happy smile that patients will be excited to show their friends and family.

In her free time, Dr. Jung enjoys hiking, attending concerts, and traveling. Dr. Jung is a Hufflepuff but wishes she was in Gryffindor.